3. Playing Surface – What type of studs do I need?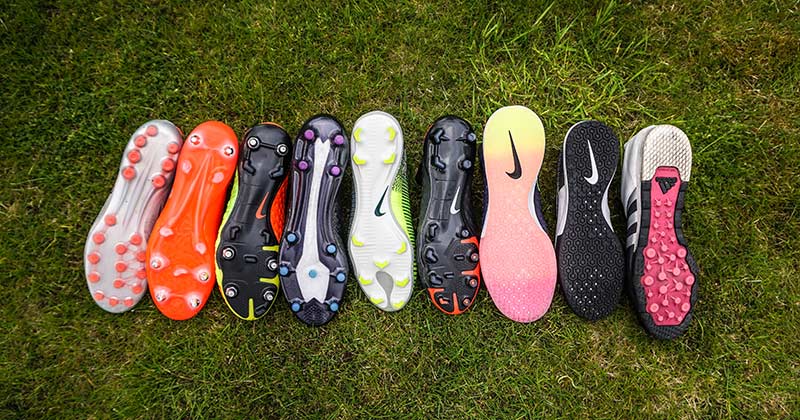 Different football boots are suitable for different playing surfaces. By turning up in the wrong kind of footwear, you'll inevitably put yourself at risk of serious injury.
You need to find a pair of football boots that is perfectly suited to the surface and conditions you're playing in. There's a variety of boot surface types out there for you to choose from, and these are typically the main ones to consider:
Firm-ground football boots (FG): ideal for dry or slightly moist natural grass surfaces.
Soft-ground football boots (SG): suited for wet and muddy natural grass surfaces.
Artificial ground football boots (AG): perfect for 3G and 4G artificial pitches.
Astro football boots: built for basic sand and water-based astroturf pitches.
Indoor football boots: for when you're playing on an indoor court. You probably knew that.
You'll be able to tell which category a boot falls into by which type of studs are used. For example, soft ground boots will consist of metal studs, astroturf boots have hollow studs, and indoor boots will have flat rubber soles.
Although you might be tempted to simply get the most out of your boots by wearing them on multiple surfaces, the incorrect use of studs can cause some incredibly nasty accidents indeed. Namely, getting your foot stuck in the turf when you're running full pelt down the wings.